For decades, the York YVAA chiller has been a fantastic design and client satisfaction. Air-cooled chiller technology continues to improve at a rapid pace. The YORK YVAA chiller parts are a significant design breakthrough, thanks to VSD technology.
Air-cooled chillers were seen as a tradeoff between performance and efficiency, but this is no longer the case thanks to technical improvements.
Importance Of York YVAA Chiller
The new YVAA model is distinguished by its high-performance design and low cost. They are known:
For their high efficiency and performance. The system is more efficient because of intelligent controls and variable-speed heat exchangers. The value of the York YVAA chiller parts is significantly higher than the sum of their parts.
Reduce your consumption to increase efficiency.
Beautiful design and high customer satisfaction.
Energy-efficient air-cooled chillers on the market; thanks to the innovative design, construction will be easier and more cost-effective while making greater use of available building space.
It is easy to service, maintain, and assure reliable operation thanks to their simple design and quick access to service components. YVAA's real-world efficiency boost of 40% over competitors is a game-changer in lowering energy use.
York YVAA chiller operation
YVAA has a positive impact on the environment in the short and long run. An ozone-depleting refrigerant is used in this model (ODP). Design considerations help limit refrigerant usage in the system to a minimum.
YVAA models can be used to create energy-efficient and environmentally friendly products.
Low-energy device.
Electric power plants are the primary source of carbon dioxide, which accounts for most global greenhouse gas emissions. The HVAC systems in commercial buildings require the most electricity. The usage of York YVAA chiller parts minimizes the amount of electricity needed to cool the earth, lowering greenhouse gas emissions.
Minimal Disruption in Operations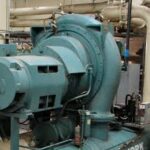 An acoustic sound blanket protects the YLAA chiller's compressors from external noise. The sound blankets are made from one layer of acoustical absorbent textile fiber.
If your chiller doesn't already contain YORK Acoustic Sound Blankets, you may now add them quickly:
Chiller noise is reduced by 20%.
Installation is simple and requires little effort.
Reusable and detachable
Closed-loop insulation
Quality Sound Level
YVAA can reach unprecedented low sound levels in off-peak design situations because of its variable speed technology.
As a result, YVAA is an excellent option for sound-sensitive areas. Thanks to its quiet night smart controls, aerodynamic fans, and acoustic sound enclosures, the chiller meets the most strict noise level criteria.
Long track record and reliability.
York air-cooled screw chillers have long been used in many nations, and YVAA was founded. YVAA can be tailored to meet your specific requirements.
Simple to customize 
You may change YVAA's capacity, efficiency, sound, and footprint to meet your specific needs. We provide a variety of condenser fans, sound kits, and other options that can customize to fit your needs.
York YVAA with variable speed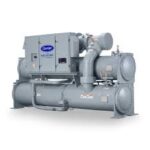 To save energy and reduce fan noise, install Variable Speed Drives (VSD) on the condenser fans of your YVAA air-cooled chiller. Innovative heat exchangers, variable speed compressors, and sophisticated controls are used in YVAA air-cooled chillers to provide remarkable performance and value.
It also delivers a plug-and-play, highly efficient, and cost-effective solution that will boost the efficiency of your YVAA air-cooled chiller to new heights.
York is regarded as an industry leader for its dependable products that focus on energy efficiency and performance. When it comes to repairing or replacing York YVAA chiller parts, you can count on us because we only offer the best replacements. Visit to chick York chiller components we have available today.
Call Now for more information