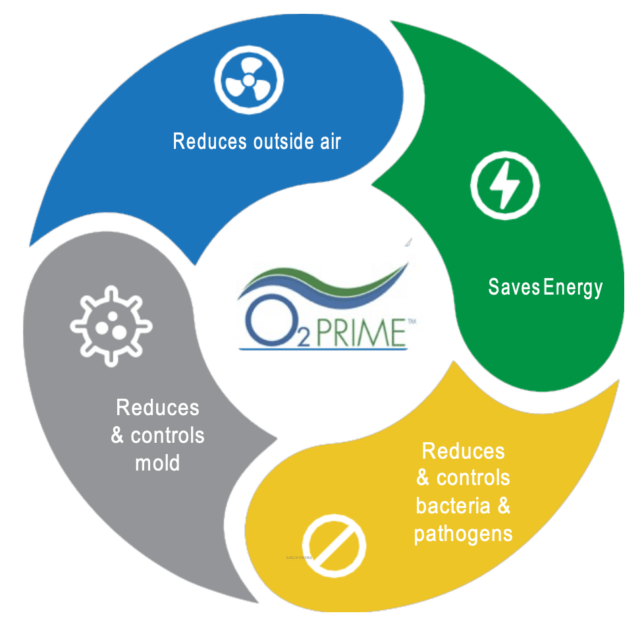 O2Prime™
Cleaner Air Quality
Independent third-party testing indicates that bipolar ionization kills viruses transmitted through coughing and sneezing as well as those that live on surfaces. O2Prime is a technology that can be added to heating and air conditioning systems with ease.
Our product solutions are unique, designed to foster better use of energy and better indoor air quality for businesses.
How Does O2Prime Work
A Deeper Look into Our Technology

Our clients are unique which is why we can deliver customized solutions for heating and air conditioning systems. We not only provide a path to cleaner indoor air, we can also help control outdoor air while killing dangerous pathogens; it all begins with the process of ionization.
The China Coronavirus and Ionization
Firstly, the latest version of the coronavirus or China coronavirus is new. Due to the fact that the virus is novel, testing has not yet been conducted on the strains. If the novel coronavirus, however, is like the viruses that have been previously examined under exposure to bipolar ionization, it is reasonable to anticipate comparable results in terms of kill rates. The data though, is still to be determined.
O2Prime – Disease Control
How does O2Prime impact disease control?
First, during the process of ionization, ions are drawn to pathogens. Then, an ion fuses on the surface of a virus or bacterium. Next, the virus or bacterium is depleted of its hydrogen bond. Without a sufficient hydrogen bond, the pathogen will fail to thrive. As a result, viruses and bacteria as well as other disease-causing pathogens will become inactive and simply unable to live. The process and corresponding kill rates on a number of microorganisms has been tested by independent third parties.
Wrap Up
To close, bipolar ionization has been found to be effective in killing viruses like the flu, common cold, SARS as well as bacteria such as staph and E.coli. Moreover, the process of killing pathogens sees the elimination of mold, mildew and dangerous spores. Along with reducing the growth of these odor-causing microorganisms comes deodorizing capabilities. Third-party laboratory testing indicates that O2Prime has a fast kill rate in the air and on the surface.
Moreover, O2Prime controls outdoor air and VOCs. Outdoor air can introduce harmful organisms into an indoor environment contributing to further infectious spread. Because O2Prime is also centered on providing efficient air, end-users acquire more control of indoor air quality. Additionally, the quality of the air is directly related to a building's vulnerability to disease growth. O2Prime delivers a multi-dimensional approach to improving air with germ-killing technology. Since the technology can be easily applied to HVAC systems, it is possible to have cleaner air circulating indoors that is ultimately, germ-free. The technology is applicable in a wide range of facilities to include schools, hospitals, laboratories, prisons, daycare centers, gym facilities and office buildings. Our solutions can largely be tailored to meet the needs of commercial facilities which are undoubtedly, unique.