Purpose of YORK 026-37563-000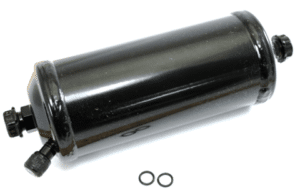 Providing a critical aspect to any refrigerant system is the filter-drier. The filter-drier as in the YORK 026-37563-000, serves a fundamental role in refrigeration systems. In addition to refrigeration systems, filter-driers are also found in air conditioning systems. While the types of filter-driers vary, there are essentially two primary activities the devices are responsible for:
Eliminating moisture

Cleansing particulates
Moisture is simply no good when it comes to refrigeration and air conditioning equipment. The excess buildup of moisture can lead to unwanted consequences such as a the formation of acidic matter and corrosion. Over time, such build-up and subsequent breakdown can destroy system components thus threatening its performance.
Considering the role of filter-driers, they are essentially responsible soaking up impurities and contaminants and then straining them out of the system, otherwise known as filtering or filtration. The filtration aspects of both refrigeration and air conditioning are vital components which should always be managed with the greatest level of care and expertise.
Maintain the Cleanliness of Your System-Replace Your Filter 026-37563-000
It should also be noted that the servicing of refrigeration and air conditioning equipment should occur at regular intervals to ensure that your system is running properly. It is common practice to replace the filter-drier during scheduled maintenance. The angle is to keep your system free and clean of any contamination or debris.
Due to the fact that refrigeration and air conditioning systems are of chief importance in many operations, it is often necessary to procure replacement parts such as the 026-37563-000 for example, to keep the systems running seamlessly.  Typically filter-driers must correspond with the system in which they are being installed. YORK parts have indeed been designed to be compatible with YORK equipment.
The filter-drier 026-37563-000 is a Johnson Controls YORK OEM part which is ⅜". OEM refers to "original equipment manufacturer" which in this case is Prior to requesting a quote for the part it is recommended that you verify the make and model of your equipment. Doing so will ensure that your part will fit correctly once it is time to place an order.
For example, Should the case be that you are running on an industrial centrifugal chiller system by YORK, then at some point the filter-drier might be a part that would need replacement. You would need to gather pertinent information regarding the nomenclature of your equipment and place it against the nomenclature of the part to confirm that they are indeed compatible.
If you are in the market for the replacement filter-driers, contact Midwest Parts Center as we specialize in YORK replacement parts.