Supply York VSD Coolant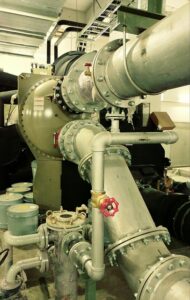 York VSD Coolant is a component that is necessary for York Chillers. The model that uses the coolant is the Variable Speed Driver chiller or VSD. The component is one that is frequently used as a refill fluid. Fluids, like other parts on a chiller, must be monitored for a potential replacement. Since the machine requires the coolant to perform its cooling task, service professionals must require the part.
Finding a supplier for York VSD Coolant should not be challenging. In fact, Midwest Parts Center supplies the components. Midwest Parts Center is an authorized distributor. Moreover, clients in the commercial and industrial sectors rely on Midwest Parts Center for HVAC components. When sourcing parts for York equipment, always deal with distributors that are authorized to re-sell the brand's equipment and parts.
York VSD Coolant is one of several components available for the VSD model chillers. Chillers are heavy-duty machines and often quite durable. The equipment does need to be serviced often to ensure that it is meeting performance standards. Service may include monitoring processes. A thorough inspection of parts is usually necessary at regular intervals so that the machines run seamlessly.
York VSD Coolant Maintenance Requirements
The maintenance requirements for chillers will vary depending on the model being used and its unique application. Still, working with a technician to manage the care of equipment is recommended. Chillers are operated in busy environments. Therefore, they will show signs of wear. The good news is that parts such as the coolant help end-users get even more use out of the equipment.
Chillers are a large investment for facilities. Whenever there is an issue with a part, repair or replacement should be performed to restore a unit to service. Investing in a maintenance plan is a great way to manage system upkeep. Contact us to find out how we can help with sourcing York coolant for your chiller.