Antiviral Sanitizer Solution for Commercial Facilities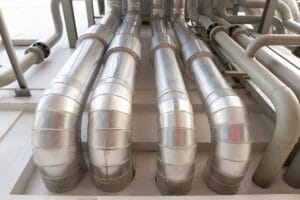 O2Prime employs free radicals to attack viruses as an antiviral sanitizer for commercial facilities. Bipolar ionization causes free radicals to form in O2 Prime. As an antiviral sanitizer, O2Prime is a viable solution that offers great potential for industrial HVAC. Furthermore, the technology behind O2Prime makes germs dormant. As a result, germs are no longer able to infect individuals that come in contact with pathogens. 
Studies indicate that as an antiviral sanitizer solution for commercial facilities, O2 Prime has a successful kill rate. In fact, most viruses are killed at a rate of 99%. Common germs that afflict facilities such as MRSA, E.coli and norovirus are effectively eliminated by O2Prime and bipolar ionization. Moreover, the technology is capable of killing airborne viruses and germs on hard surfaces. 
Antiviral Treatments for HVAC
Antiviral sanitizer can be added to heating and cooling systems deployed in commercial facilities. In fact, the CDC recommends that facilities investigate HVAC settings. By looking at the configuration of an air system, end-users can determine what role it plays in air purification. In truth, purified air is important to facilities because it contributes to a healthier environment. Due to the fact that people frequent establishments for long periods of time, breathable air is essential. Antiviral sanitizer can help to achieve the healthiest air possible. 
With the threat of coronavirus looming over facilities, achieving the cleanest air possible is a major priority for facility managers and business owners. Additionally, patrons are looking for ways to remain safe while going about their own activities. Because some of the preventative measures that facilities use are not completely thorough, supplementing infection control with ventilation systems is ideal. Not only is working with HVAC units ideal, but it is also an economical choice. O2 Prime enhances existing air conditioning units. 
Behind O2Prime Clean Air Innovation
The technology behind O2Prime is not new. There is a renewed interest in the technology among facility managers, business owners and decision makers of large industrial complexes. Furthermore, the impact of economic loss due to illness is far too great to neglect. 
Moreover, building sickness does affect individuals with sensitivities to mold and mildew. O2Prime addresses the challenge of viruses, mold, mildew and dangerous VOCs. VOCs can lead to toxicity that must be remedied quickly. 
Because of the coronavirus, businesses must change their approach to infection control. Commercial-grade cleaning materials are simply not enough. The populace is calling on facilities to do more to prevent the spread of germs. In fact, it is simply good practice to maintain a sanitary establishment. Moreover, there is far more to gain from a healthy environment. Contaminated facilities may experience serious losses including financial impacts.
Companies looking for better air quality can trust in the solutions available through Midwest Parts Center. We are an expert in HVAC. Explore our unique selection of products and services made especially for commercial and industrial establishments. Learn more. Contact us to inquire about our sanitizer solutions, clean air services and equipment.