YORK Genuine Parts for HVAC Units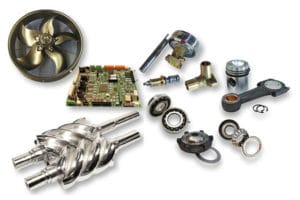 When your commercial HVAC system is running on YORK, then you need YORK Genuine Parts for repair or replacement. At Midwest Parts Center, YORK is our specialty and we can help you identify and locate the parts that you need for your existing system.
YORK is a name that you can trust. Even if you are tempted to retrofit your unit with generic parts, we would encourage you to consider choosing a name with a strong reputation. YORK Genuine Parts are authentic and will provide a great fit. In choosing the brand over an unfamiliar supplier, you can be certain that your system will deliver the best level of performance consistently.
Searching for YORK Genuine Parts might appear simple at first, but once you dig into your manual, you might grow somewhat confused with all of the many parts and components available to you. At times, you might not even know where to start. This is where Midwest Parts Center can help.
We are familiar with YORK equipment and therefore can help you find the exact parts that you require. First, you may need to locate your model information. Knowing the model of your unit will help in identifying the parts that your system will accept. An experienced technician will also be able to assist with ID'ing pertinent part numbers that will help to expedite the process.
YORK Genuine Parts Suppliers
Selecting the correct parts will make all the difference. The time it takes to conduct repairs or service will be greatly reduced when you have chosen the exact match. Also, as an authorized distributor of YORK parts, we can provide realistic lead times as we have access to the brand's inventory of items. Your HVAC system is far too important to your operation to leave it to chance, which is why you should stick to the brands that you know.