York Replacement Parts Source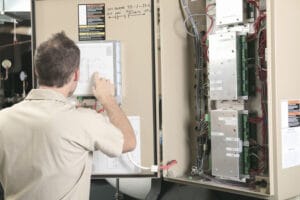 Our commercial and industrial clients rely on us to supply the best in York replacement parts. We are an authorized distributor with access to the York catalog for HVAC equipment. Replacement parts manufactured by the brand are made to integrate with deployed units in facilities. If you are in need of seamless integration for HVAC components, then you will certainly be pleased with our selection of equipment by York. As a knowledge expert in the field of heating, cooling, and ventilation, we understand the needs of facilities and the growing demand for reliable parts. 
Heating and cooling units built by the York brand accept York replacement parts with ease. The units are frequently installed in numerous establishments around the world to provide much needed temperature control. Although HVAC systems are reliable, they do need to be serviced often. The highest level of performance is the result of ample care. Facility managers and service technicians work together to maintain the operation of temperature control systems. Access to replacement parts simply makes the task of upkeep less cumbersome for end-users. 
Performance and York Replacement Parts
York replacement parts are installed for several different reasons. The need for parts is not the same for companies which come from a wide set of industries. Furthermore, York manufactures many different models with distinct features. Replacement parts, however, can be retrofitted to units built by the brand with ease. Finding the exact match component sometimes presents a challenge to buyers who must work through complicated part numbers. 
Midwest parts Center is a capable service provider and parts supplier that can work with you to identify accurate parts nomenclature for your climate control systems. Additionally, saving time on acquiring parts is helpful for companies that are in the midst of planned shutdowns for repair, unexpected outages and scheduled maintenance. 
Replacement parts are not just necessary for the performance of an air system, but they are also used for greater efficiency. Heating and cooling systems depend on high levels of energy to function. System issues can cause the machines to use more energy than normal to make up for the loss of functionality. Excessive use of energy inevitably leads to higher energy costs. Since companies monitor the expenses and work to keep them in a reasonable range, repairs are usually performed swiftly. Facilities simply cannot afford to wait an extended period of time for repairs on an air system.
In addition to promoting efficient performance, parts are used as a protective measure. Reducing damage to HVAC systems means that they can operate for an extended period of time. Commercial and industrial temperature control units are a costly investment for companies and therefore the systems must be able to have a very long life. 
Finally, emergencies can happen with end-users least expecting it. Even though well-known brands are most reliable, any number of factors may play into a major outage. Natural disasters and power surges are just two events that may have an impact on the operation of an HVAC unit. Replacement parts can fill the gaps between downtime and being online. 
Contact us to inquire about York Replacement Parts.