York VSD Coolant and Chiller Function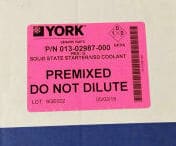 HVAC systems require ongoing upkeep to function properly. Among the types of components needed to maintain the operation of a system is coolant. Coolant is used to protect the parts of a system by acting as an anti-corrosive. The material is also used to prevent build-up so that a climate control system can run efficiently. York VSD Coolant is one such part that is necessary for the operation of a York Variable Speed Driver chiller.
The VSD chiller by York is one of the most efficient models available. The system has been found to reduce energy expenses by as much as 30%. Chillers are cooling systems that are used in a wide range of applications across several different industries. As a result, the equipment must always be reliable. Due to the fact that the machines are run for extensive periods of time, energy consumption is a major concern for facilities that use chillers. York VSD Coolant contributes to the performance of the chiller so that it can deliver optimal performance for a long time.
The appeal of the VSD Chiller model is the savings that it provides during times of heavy use. Facilities find that over time, the use of a chiller with the VSD technology by York improves the longer a system is in operation. Including York VSD Coolant in the care plan for a chiller is the best way to reduce performance issues and retain energy.
York VSD Coolant & Maintenance
Chillers require maintenance to ensure that systems are making the best use of the energy available. Caring for a cooling system does require professional expertise because the systems are very complex. Handling the repairs of a chiller means that technicians must have access to a wide scope of parts including consumables. Every components plays a critical role in protecting a chiller from damage so that it can deliver the anticipated level of performance desired. Contact us to find out how we can help with maintenance parts for your cooling system